ALUMIER MD

About Alumier MD
Alumier MD was developed by a global team of scientists, dermatologists and leading industry professionals. Through advanced propriety chemistry, Alumier MD has optimised the bioavailability of each molecule in our ingredients we use. As a result, our scientific formulations deliver exceptional results.
The Science behind great Skin
Alumier MD was born out of an understanding that everyone wants clear beautiful skin. We assembled a team of top scientists and physicians to bring you the most effective formulations using optimal medical-grade ingredients.
With over 100 years of combined skin care experience, our experts understand the physiology behind different skin types and conditions to help your clients achieve a youthful glow.
Because we focus on the science behind great skin, we know that it starts with identifying and understanding every skin profile. Our comprehensive medical skin care line includes start of the art science-based, luxurious formulations with innovative delivery systems. These products address multiple skin concerns, delivery results and perform progressively over time.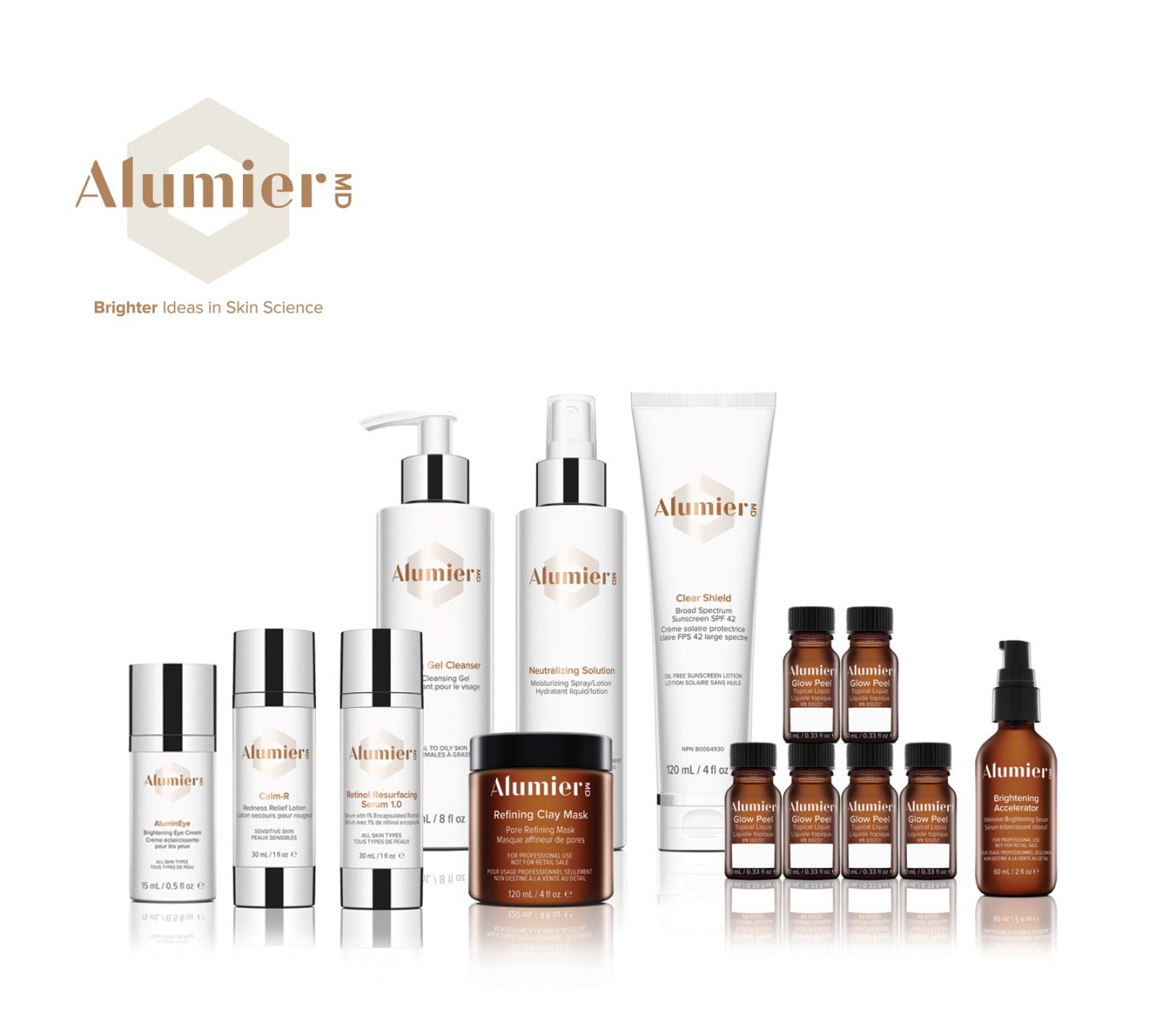 Skin Conditions:
As we age our cell turnover slows down and our fibroblasts decrease production of collagen and elastin. Retinol and peptides are essential to reverse the signs of ageing as they are the only two ingredients proven to stimulate fibroblasts.

Every persons' skin needs good skin care even if no pressing conditions are present. A daily broad spectrum sunscreen, antioxidant and gentle exfoliation will maintain a beautiful complexion and delay the signs of ageing.
Alumier MDs' hero ingredients when treating Rosacea are Hinokitiol, Sea Whip, Niacinamide (Vitamin B3). Together they have anti-inflammatory, antioxidant and antimicrobial properties which strengthen skin cells and capillaries as well as relieve redness and inflammation.
Treating acne is a multi-dimensional task. Exfoliation must be enhanced to remove cell build up, sebum production must be controlled and P. acnes and inflammation must be reduced.
Whether you are aiming to correct photo-damage, post inflammatory hyperpigmentation or hormone related melisma the melanocyte needs to be suppressed with EmblicaTM. Exfoliation will remove pigmented skin cells and accelerated results.
Chemical Peels
A chemical peel is a treatment used to improve skin texture and tone. An acid is applied to the skin to lower the pH, which loosens the connections between dead skin cells, including exfoliation and stimulating new cell growth. This process causes superficial layers of dead skin to peel off, revealing a smoother and more radiant complexion.
Chemical peels have been used dating back to Ancient Egypt, according to some sources, Cleopatra used sour milk to improve the appearance of her skin.
Chemical Peel Treatment Expectations
Beautiful skin doesn't happen overnight, and treatments take time to show results. A single chemical peel can provide the immediate effect of bright and radiant skin; however, more significant results in treating textural issues, fine lines and inflamed acne could take up to eight weeks.
Using homecare products consistently and as directed to achieve optimal results. Just as you take time to exercise, you need to take time for your "daily skin care workout regime".
Alumier MDs ChemicalPeel Philosophy
Alumier MD offers light to medium depth peels known for their excellent results and safety profile. We believe in repeated treatments for progressive and gradual results to avoid side effects and downtime associated with deeper peels. Alumier MD peels are only performed by trained skin care professionals in a clinical setting to ensure that they are delivered safely and effectively.
Chemical peels work by deeply exfoliating the surface layers of the skin, forcing your body to quickly replenish it with new cells. When peels are performed regularly, the skin gets used to this process and begins to rejuvenate itself like younger skin. To be sure that the body doesn't react to this exfoliation as it would to trauma, which can lead to pigment changes, exfoliation must be introduced gradually giving the skin time to adjust.
Pre-treatment products precondition the skin, accelerate results and minimise complication. Post­treatment products minimise complications, heal and soothe the skin and then maintain the results. Professional treatments enhance the results of home care products.
DERMAQUEST

We Strive To Be Nothing Less Than Visionary
Welcome to the world of unparalleled skincare. Since 1999, we have crafted the absolute finest skincare products available for home and professional care and continue to do so as we embrace our role as the leader in plant stem cell technology and as a top international skincare brand. With innovative products that address every need and desire, advanced delivery systems and our unique layering technology, our exclusive line takes the science of skincare to the next level of excellence.
Our Products Are The Ones You Will Want To Age With
DermaQuest's collections provide luxury care, rich in botanical stem cells, peptides and vitamins, with hydrating and protective ingredients that are vital for maintaining skin integrity. Our products and sequences do so much more than prime and pamper your skin. While proper cleansing, hydration, strengthening and protection is the best method for beginning to address all skin conditions and achieving balance, this balance provides the foundation needed for advanced reatments using our result-driven client protocols.
Moving forward, we have the products necessary to elegantly preserve the effects of our treatments. The rewards of healthy, transformed and nourished skin are not only attainable, they are sustainable. Our philosophy delivers stunning, long-term results. We are luxury bottled, a custom regimen brewed specifically for you.
HIGH PERFORMANCE COLLAGEN DRINKS FORMULATED WITH THE MOST POWERFUL AND EFFECTIVE INGREDIENTS FOR MAINTAINING FIRM, PLUMP AND YOUTHFUL SKIN FROM THE INSIDE.

We are proud to offer the award winning Collagen Shots products developed by beauty specialist, Kathryn Danzey following 40 years industry experience, the Collagen Shots are an affordable product that make a serious difference to the physical appearance of the skin – and quickly, without compromising on potency.
The maintenance of firm, plump, youthful skin starts from deep within. Studies have shown that supplementing your collagen levels by ingesting the collagen in Collagen Shots improves skin elasticity and helps to give a more youthful appearance. The unique combination of ingredients work synergistically to synthesise more collagen, strengthen connective tissue and arterial walls which boosts blood flow to your skin.
Collagen Shots owes its efficacy to a massive 10,000 mgs of Marine Extract Hydrolysed Collagen per serving and Hyaluronic Acid. The formula also includes super-fruit Acai berry added alongside Vitamins B and C to create a synergistic blend for maximum benefits.
Collagen type I is the major protein found in connective tissues and skin, it plays an essential role in maintaining skin tone, suppleness & elasticity. The collagen in these shots is broken down in the digestive process into the key amino acids required to build fibroblasts, the cells that synthesise collagen. Collagen is the most abundant protein in the body, so this helps with the rebuilding of tissue throughout the body.
After the age of 25 collagen synthesis reduces at a rate of 1.5% a year and the age of 45 collagen levels can have fallen by as much as 30%. The visible effects of this process are the appearance of wrinkles, fine lines and dry skin. Collagen Shots have all the benefits in one shot per day to stimulate Collagen synthesis and skin hydration slowing down the signs of ageing.
Collagen Shots:
A mild berry-flavour drink giving you the best ingredients in anti-ageing and skin health, 10g per day taken daily.
Not suitable for people with fish allergy Collagen Shots are available in two sizes 30 day RRP £43.95
Rejuvenated is a British supplements brand with a capsule collection of products designed to boost your glow from the inside.
Brimming with skin firming ingredients, antioxidants and peptides, Rejuvenated delivers potent and recognisable benefits to the appearance of skin.
Rejuvenated was founded by Kathryn Danzey in 2003, with a background deeply rooted in nutrition, health and beauty, Kathryn has worked with a team of scientists to formulate a range of products with highly effective and 100% natural ingredients that help to enhance radiance and diminish dark circles, puffiness and tired looking skin. You can buy Rejuvenated at the main clinic or click below for fast delivery
| INGREDIENTS | BENEFIT |
| --- | --- |
| Marine Collagen Peptides | Low molecular weight for high absorbency. |
| Pure High Potency Marine Collagen | Hydrolysed marine collagen contains the key amino acids your body requires to synthesise new collagen |
| Acai Berry | A super berry fruit packed with amino acids, antioxidants, minerals & vitamins |
| Copper | Contributes to normal tissue health & protects cells from oxidative stress |
| Vitamin B | Assists with digestion and the growth of new cells |
| Vitamin C | Protects the body against oxidative stress & contributes to the formation of collagen in skin, hair & nails. |
| Hyaluronic acid (HA) | Often been called the fountain of youth, it can hold up to 1000 times its own weight in water and provides a cushion filler between the cells. |
| Zinc | Plays a role in protecting against oxidative stress and contributes to normal DNA synthesis. |
BOOSTING YOUR GLOW FROM THE INSIDE

H30 Night Repair are high performance natural dietary supplements designed to nourish cells whilst we sleep, helping to diminish puffiness, grey circles and tired looking skin.
Rejuvenated recognise that cellular hydration is one of the key essentials for healthy, youthful looking skin and have created a supplement containing a combination of unique, 100% natural ingredients to feed and sustain skin cells, assisting with nutritional support for ageing skin.
Packed with a multitude of nutrient rich extracts such as grape seed, super power marine algae, highly active ionic minerals perform a number of functions in the body including conversion of dormant energy to active energy, regulating fluid balance and cellular hydration. The H30 Night Repair are a beauty boosting supplement to deliver a more radiant and youthful complexion.
Vitamin AC&E Antioxidants to protect against oxidative stress and C contributes to the formation of collagen
H3O Night Repair RRP £30 for 30 days supply. One capsule to be taken daily.

Gluten Free/Lactose Free/Suitable for Vegans & Vegetarians/100% Natural
Rejuvenated is a British supplements brand with a capsule collection of products designed to boost your glow from the inside.
Brimming with skin firming ingredients, antioxidants and peptides, Rejuvenated delivers potent and recognisable benefits to the appearance of skin.
Rejuvenated was founded by Kathryn Danzey in 2003, with a background deeply rooted in nutrition, health and beauty, Kathryn has worked with a team of scientists to formulate a range of products with highly effective and 100% natural ingredients that help to enhance radiance and diminish dark circles, puffiness and tired looking skin. You can buy Rejuvenated at the main clinic or click below for fast delivery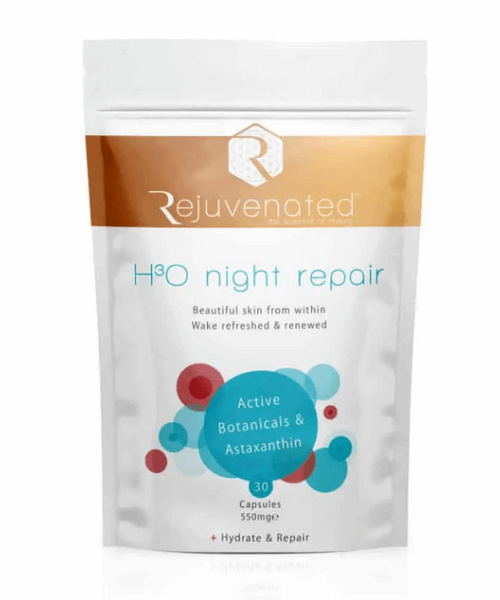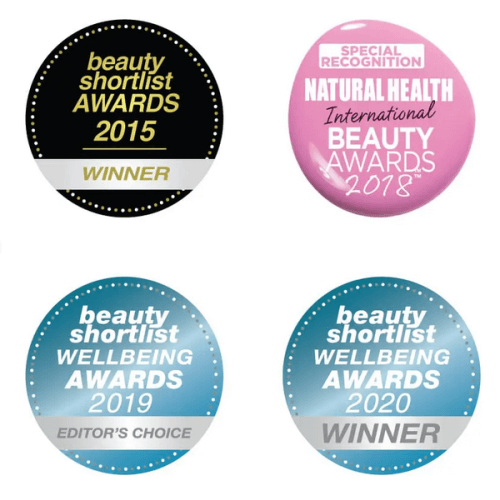 | INGREDIENTS | BENEFIT |
| --- | --- |
| Astaxanthin (Unique Super Power from Sea Alagae) | Low molecular weight for higContains many times the antioxidant power of vitamin C, beta carotene, green tea, CoQ10 & lutein |
| Ionic Electrolyes | Play a critical role in almost every metabolic reaction in the body. |
| Highly Active Ionic Minerals | Potassium, magnesium, calcium and sodium plus over 70 other trace minerals in their readily absorbable ionic form. |
| Astragalus Root | Long used in herbal medicine for health and well being. |
| Grape Seed Extract | An Oligomeric proanthocanidin, naturally occurring antioxidant with many times the power of vitamin C & E. Anti-inflammatory. |
| Marine Pine Bark | Has over 40 antioxidants & works synergistically with vitamin C & E, an anti-inflammatory which binds with collagen to protect the skin. |
TO BOOK A FREE INITIAL CONSULTATION
PLEASE CALL OUR CLINIC ON 0121 745 4288